The magic of the blade
A good knife can be the difference in kitchen creativity, and like the magic of artistic creativity, it's all in the chemistry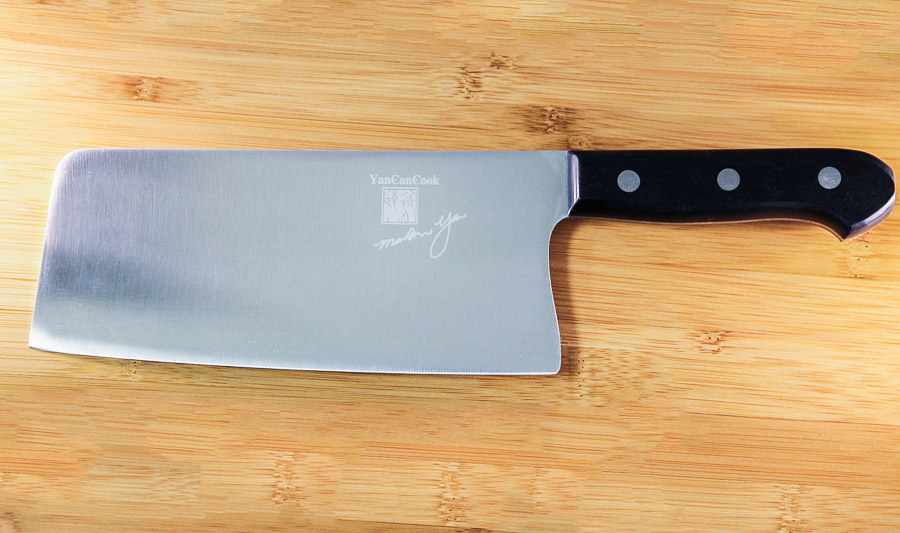 Chefs are very particular about their knives; for many years the trade secret was well-made and relatively cheap knives by Global. Others swear by Henckels, but I find them too balanced toward the handle for my hand. This year I found myself doing most of the prep work with my Chinese cleaver - I call it a Chinese cleaver (made in Japan by Messermeister, a German company, go figure) because it was given to me by Chef Martin Yan (a story for another blog) and it is a doozy. Now, I have been trained in knifework by some pretty fancy folks, but the first week I had this blade I managed to take off a section of a fingernail, and the bit of flesh under it, so crisply that I never felt any pain, just bled like a sonovabitch. It's just about grown back now. Unlike what you might expect from a European cleaver, this is what Yan calls a "kitchen knife", and it's used by choking up very high on the handle and guiding the extremely sharp edge with fingertips on top of the blade. Tricky to master, but man, does it cut.

Oddly enough, the New Yorker "Food Issue" arrived last week, with an article by Todd Oppenheimer about, yes, knives, and the fascinating things knifemakers go through perfecting their ancient art. Adding to the sciences - metallurgy, mathematics, physics - comes the art of knowing how a blade looks when it is hard enough, or sharp enough or knife enough. And then there's the magic tricks, the obscure knowledge. Lubricating a grinding wheel with lard. Smelting and cooling steel on fresh tree leaves or oyster shells, adding a pinch of vanadium, a dash of chromium, romancing the carbon molecules to dance this way or line up that way, to layer and swirl in ancient hypnotic patterns India calls telugu and the English call woortz. So in many ways Arthur was right and the Caliburn blade is truly magical. It is an alchemy; a mixing of base ingredients to make a noble product. And that is what we do as well, as artists. A dash of imagination, a touch of technique lifted from some half-remembered lesson. Scientists have proven that the brain can make a decision as much as ten seconds before we are consciously aware of it. Neurologist Michael Gazzaniga talks about "the Interpreter", a part of your brain near the speech center that will make up a story attempting to explain why something occurs, even if the occurrence makes no sense, like seeing faces in the whorls of a tree. The mind abhors disorder, adores arrangement. Humans are the only animals with the ability to ask "why?", and creatives are the ones who can ask "what if?". And it's all alchemy, seemingly random combinations of iron and copper, potassium and, yes, even gold, that floods our brains with serotonin and dopamine - hopefully in the right amounts - and makes ordinary things become magical. Don't try to examine it too closely. We depend on inspiration: perhaps it is our Interpreter making fanciful decisions, perhaps a gift from the Divine or the collective unconscious, or simply part of breathing in. This season, we wish for you the courage to trust your inspiration and simply create, without self-criticism. Trust your edge and let the alchemy happen.
For a locally-made edge, Rhineland Cutlery in Melbournbe FL has established a reputation for pro-class knives, from $16.95 paring knives and a beautiful Japanese deba knife at $149, to a $209 chef knife that looks like it could sing.