DELIVERANCE
A short play in three acts exploring the stresses of the new reality, and how some of us are better equipped than others to deal with it.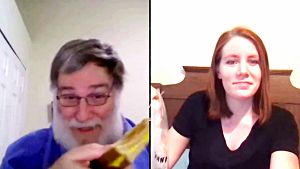 Jimmy Santine has lived a long life, he's not ready to check out yet. I don't touch nothing I'm not related to; I don't breathe in nobody else's space; if I can feel the heat coming off your tiny little fevered head you are too goddamn close."
It is a city in the time of social isolation, and life is different now that food arrives at your door. Meet DANNY, the food deliverer, generally confounded by nature; AMY, mother of 5-year-old twins, who might be more than a little stir crazy; MR. SANTINE, the 99-year-old, old-school Pittsburgh ex-mobster … allegedly; and MEGAN, home, alone, in her second-floor apartment, for far too long.
Written during and reflecting the uncertanty and hope instilled by the 2020 pandemic, it is Joseph Hayes' first play written specifically to be performed either for a live audience or as a streaming production. Or, as you'll see, both.